Guest author - Betsy Horvath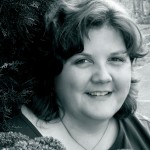 Today I welcome Carina Press romantic suspense author, Betsy Horvath. May I just say, this author had me at "Scarecrow and Mrs. King..."
What inspired the plot to HOLD ME?
First of all, thank you, Maureen! I'm so happy and excited to be here with you today. :)
HOLD ME was originally inspired by the 1980's television show, "Scarecrow and Mrs. King". The book took off from there and changed, of course, but that show was definitely an influence in the beginning.
If you're not writing, what is your very next activity of choice?
That's not hard - if I'm not writing, then I have to be reading. There is nothing I love more than sitting in my big comfy chair with a cup of coffee in one hand, and a book in the other. Usually there is also a cat or two in my lap to help turn the pages.
Has your TBR grown fangs?
Absolutely. Especially now that I have a Kindle and don't have the physical reminder of how many books I already own. Then there's the fact that I've fallen in love with so many of the Carina authors. Every time the Carina newsletter comes out I add three or four more titles to my list.
What superpower would you prefer to have?
Oooooo that's a tough one. Is "Able to Eat Anything Without Gaining Weight" a superpower? If so, I want it. Now!
Would you kiss the Blarney Stone if you visited it?
I certainly would! I need as much luck as I can get. And aren't you a clever girl, because the original title of my book was not HOLD ME, it was THE LUCK OF THE IRISH. Faith and begorrah!
What awesome authors did you "trip the light fantastic" with recently in New York City? (Clue, I am one of them.)



T

here were SO many wonderful authors in NYC for the RWA conference. It was terrific to actually meet other people from Carina Press. And at the Harlequin Black and White Ball, I had the pleasure of hanging with the effervescent Adrienne Giordano (one of my release mates), and someone else... Hmmm...who was it? Oh...oh yeah! It was YOU! Maureen A Miller, author extraordinaire! (By the way, I hear rumors that both Adrienne and Maureen can bust a move on the dance floor. But nobody holds a candle to Julie Rowe.)
What can we look for next from Betsy Horvath?
Well, I'm working on a contemporary romance right now, then I'll be writing the sequel to HOLD ME. Whatever I write, romance will be involved. And probably coffee.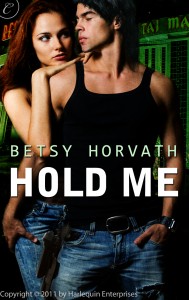 HOLD ME excerpt.
Here's an excerpt from Chapter 2. It picks up pretty much where the Chapter 1 excerpt on my website leaves off:
Katie finally got the car started, holding her feet on the gas pedal and the brake at the same time so the thing wouldn't stall out again. Then, without any warning, the passenger door opened and a disheveled, dark-haired man slid in next to her.
She stared at him, shocked.
"Hi," he said.
"What do you think you're doing?" The fear slammed into her. Her car doors. She'd forgotten to lock her car doors. "Get out of my car!" Everything her mother had ever told her about serial killers and rapists and carjackers raced through her mind so fast they burned it out and left it blank.
"Yeah. Well, see, I'd like to, but—"
"You'd like to? Get out or I'll call the police." Call the police. Yes, yes. Call the police. Katie fumbled for her purse and her cell phone, but he grabbed her wrist.
"Damn it, don't panic! I'm not going to hurt you."
"I'm not panicking." Okay, so that was a lie, but he didn't have to know it. "Just get out!" She struggled to unhook her seat belt. The buckle, naturally, refused to budge. Oh, God, she was trapped in the car with a stranger. The light turned green, but she ignored it and the car horns that blared behind them as she fought with the belt. "Take the car," she panted. "You can have the car. Just let me go."
"Would you listen to me?" The man tightened his hold on her arm and glanced back through the rear window. "Please. I swear that I'm not going to hurt you. I swear. Honest. I'm with the FBI. There are people chasing me who want to kill me. They're almost here. I need your help. Please."
Katie hesitated and looked right into the man's beautiful dark eyes. He seemed sincere. This could be a scam, though. Her mother's voice in her head was screaming at her not to be stupid. This could all just be a way to lull her suspicions. But his voice was deep and musical, and she thought she heard some real desperation in it.
"If you—"
There was a sharp sound like a firecracker. The mirror on Katie's side of the car exploded.
She screamed. Loudly.
"Go!" the man yelled.
HOLD ME is available now from Carina Press, Amazon, Barnes & Noble and wherever fine ebooks are sold.

Katie McCabe's life is going nowhere fast when FBI Special Agent Lucas Vasco jumps into her car at an intersection. Luc, his undercover guise blown, is on the run from the Mafia and expects to be killed at any moment. What he doesn't plan on is finding himself attracted to the firecracker beside him. He feels compelled to protect her when her life is threatened, and insists she stay with him for her own safety.

After learning she has become the target of a psychotic hit man, Katie is whisked off to Luc's house to hide. Once there, she's shocked to discover that she and Luc have an unexpected connection; a connection Luc already knew existed, but withheld. Will their intense attraction reach flashpoint despite their misunderstandings and the pain of the past?



Betsy Horvath was raised on MGM musicals, old skool Harlequins, and Nancy Drew, so it should not have come as a shock that one day she'd be writing romance. The biggest surprise was that it took her so long to actually buckle down and do it. Hold Me is her debut romantic suspense novel.
You can usually find her at her website:
www.betsyhorvath.com
, on
Twitter
or hanging around
Facebook
.