Guest Author - Cathy Pegau
Today we have with us, Cathy Pegau, Carina Press author extraordinaire! Let's get to learn more about this exciting woman.
Tell us about Rulebreaker. Is this a new genre for you, and if so, what attracted you to it?
Rulebreaker
is a F/F Science Fiction Romance about a thief, Liv Braxton, who joins her ex husband and his crew on a job to blackmail a mining company. While looking for incriminating files on VP Zia Talbot's computer, Liv discovers some nefarious deeds are occurring. Zia's involvement isn't a surprise, but the feelings Liv starts to have for her are.
This is my first SFR as well as my first F/F as a writer. Up until Rulebreaker, I was working on sword and sorcery-type fantasies and a paranormal women's fiction. Always something with a little "otherness" to it
J
What attracts me to SFR, and speculative fiction in general, is the potential to travel out of the ordinary. And I like making my own world rules. Which I try not to break. People get cranky if you do that.
The F/F aspect came about when I was thinking of a love interest for Liv, someone to foil her adherence to the rules. Zia popped into my mind, almost fully formed, and she was exactly what I wanted. It felt right, so I went with it.
The cover is fantastic, can you tell us more about it?
I'm in complete awe of my cover! Croco Design is amazing. That's absolutely Liv out front. Direct. A little cocky, perhaps. Behind her, it looks like Zia is about to kiss Liv's shoulder, which happens in a rather sensual scene. On the page, Zia comes off as cool at first, but the artist captured her softer side.
Alaska! Give us some insight into everyday life in Alaska? Do you suffer from long nights in the winter? Does that contribute to the art of writing?
Everyday life here is a lot like everyday life anywhere. Except maybe for the occasional bear. Our town, though not on an island, is only accessible by air or sea, making travel tricky. We can't just hop in the car and go to the nearest mall or fast food joint, which is great for my bank account and my waistline.
The long, dark nights are beneficial, as are the cool, dreary days. Everyone tends to settle in a little earlier, so the quiet time is great for writing. If I'm not working (I sub at the schools as an aide or teacher), I try to get as much writing done during the day without the kids and husband around.
What is next on your plate? We want more!
I'm prepping another book set on the same planet as Rulebreaker. It features one of the secondary characters who enlists the help of a former drug addict to help him rescue his sister. There's a third book in my brain, but it needs plot work. Fingers crossed that they get picked up!
I have a few older manuscripts I'd love to revisit and hopefully sell. The aforementioned sword and sorcery fantasies, the paranormal women's fiction, a shape shifter romance set in Alaska, and there's a paranormal western that's been floating in my brain for a bit.
Give us some personal insight into Cathy Pegau. What would you be most afraid of to find in the house, a spider, a snake, a scorpion, a mouse or an aardvark?
The snake or scorpion would be equally terrifying for me. Well, depending on the size/danger of the spider. We have normal-sized spiders here that I tolerate. But snakes and scorpions??? There's a reason I live in Alaska.
Coffee first thing, or I'm cranky and useless. I do like a nice cup of tea later in the day. Some Earl Grey, a good book and a storm lashing at the windows while a fire blazes in our wood stove is my idea of a fine afternoon.
Which would drive you crazier, the sound of dripping water, the tapping of a tree on a windowsill or snoring?
Where do you come up with these?
J
I live in a temperate rainforest, so dripping water and trees smacking into things are standard background noises. The snoring would likely bother me, but I'm a snorer myself so I feel kind of bad saying that. Pot, meet kettle, and all.
Favorite writing companion, animate or inanimate.
I usually have a cup of something at hand and a dog or two at my feet when I'm writing. The cup gives me something to fiddle with as I mull scenes—get up, pour more coffee, sip and think. The dogs tend to interrupt with the burning need to go out or play fetch just as I hit a groove.
I'm so happy Cathy stopped by today. And I'm so excited for her with the release of RULEBREAKER. Please sample a little excerpt of her work below and let her know what a great job she's doing!!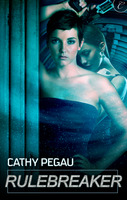 Excerpt from Chapter One:
Liv and her partner went in to rob a bank, but were caught up with the rest of the customers when a second gang burst in. Now, they are on the floor with the others…
The gunman didn't speak. His palm skimmed the length of my leather jacket from shoulder to just above my buttocks. He pressed down, jabbing my pistol into my spine, then moved the tails of the jacket and shirt aside, exposing the waist of my trousers. And the gun. Like he knew it would be there.
My gut quivered. Shit! If he took me for a lawman, I was dead.
"Tsk tsk tsk," he whispered close to my ear. He eased the gun out, resting it on the bared skin of my back. His gloved fingers slid under my trousers. My muscles stiffened when he tickled my tailbone just below the waistband of my bikini panties. "Got anything else there?"
His hand trailed back up to my gun, and its weight disappeared. The barrel of his rifle nudged the back of my hands. "You're quite lucky today, amante. Quite lucky."
Only one person used that word with me, and he'd lost the privilege three years ago.
Over the indignation and disbelief buzzing in my head, activity from near the vault told me the job was done.
The bastard leaned closer. His breath warmed my ear. "Gotta go, darlin'."
He dragged a finger up my spine then was gone.
My body shivered in memory of his touch while my mind screamed. No! No no no, double damn the void, NO! This went beyond poor timing.
My ex-husband had just felt me up, taken my gun and spoiled my hit.
Where to find Cathy!